The time has come to buy a new laptop. The problem is that you don't know where to begin. There are thousands upon thousands of laptops to choose from, and the choice is a tad overwhelming, right? Which brand do you trust? Do you focus on affordability or Functionality? Should you sacrifice performance for a more compact, lightweight model?
Let me share a little secret: you don't have to give up anything. The best Lenovo laptops can offer you a range of functions, sizes, designs, and performance levels at affordable prices. Having made $51 billion in revenue between 2019 and 2020, it's no surprise you're considering purchasing a Lenovo device.
So, what is the best Lenovo laptop (ever)?
Lenovo IdeaPad 1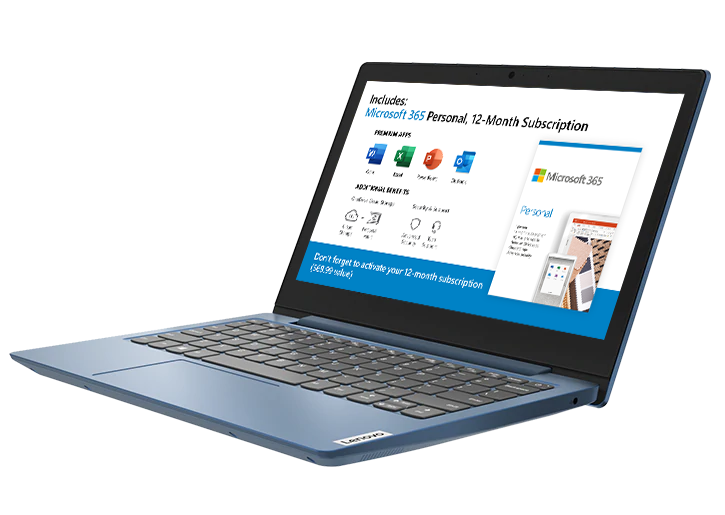 Price: $309.99
If affordability is your focus, you're probably asking yourself one question: "What is the best Lenovo laptop for the money I have?" Well, a great place to start is with IdeaPad 1.
This highly compact laptop is perfect for students or those working on the go. Weighing just 3.09 lbs (1.4kg), you don't need to worry about carrying this device around.
A compact laptop doesn't mean you need to sacrifice performance, either. The IdeaPad 1 is built with an Intel Platinum processor, meaning you can easily run multiple programs or apps without your laptop lagging. And with its thin-bordered, anti-glare screen, you can make the most of the 14″ HD display.
The IdeaPad 1 comes with a slick, ice-blue design. So, you can make the most of its 8-hour battery while still looking trendy. And if you enjoy listening to music, you'll like the built-in dual Dolby Audio speakers.
Specs:
14″ HD Display
Intel Platinum Silver N5030 Process
4GB RAM and 64GB Hard Drive Space
Weighs 3.09lbs/1.4kg
Pros:
Lightweight and Compact
Long Battery Life
Functional and Dependable Performance
Cons:
Lenovo IdeaPad 3 – One of the Best Lenovo Laptops?
Price: $389.99
There is no denying that the IdeaPad 1 is perfect for those on a budget. But if you're willing to invest extra cash, you can get the new and improved version. It's bigger, it's faster, and it's got more memory. What more could you ask for?
How about a 15.6″ display that is both touchscreen and anti-glare?
This model is less than 0.5lbs (0.2kg) heavier than the IdeaPad 1, so the improved features and performance don't cost you the transportability of your device.
You'll notice the improved performance and picture with an Intel Core i3-1005G1 Processor (10th Generation) and a UHD graphics card!
The IdeaPad 3 also has a rare but convenient security feature: a physical shutter covering your webcam. Now there's no reason to damage your laptop by covering the webcam with tape after your Zoom or Skype call.
Given that a 2003 study found that a cyber hack attempt occurs every 39 seconds (on average), this added security feature offers a little peace of mind.
You even have two designs to choose from Almond or Abyss Blue.
Specs:
6″ HD Display
Intel Core i3-1005G1 Processor (10th Generation)
Intel UHD Graphics Card
4GB Ram and 128GB Hard Drive Space
720p HD Webcam
Pros:
Lightweight and Compact
Physical Webcam Shutter
Powerful Processor and Memory Capabilities
Cons:
Slightly Weaker Battery Life (7 hours)
Lenovo IdeaPad Flex 5 14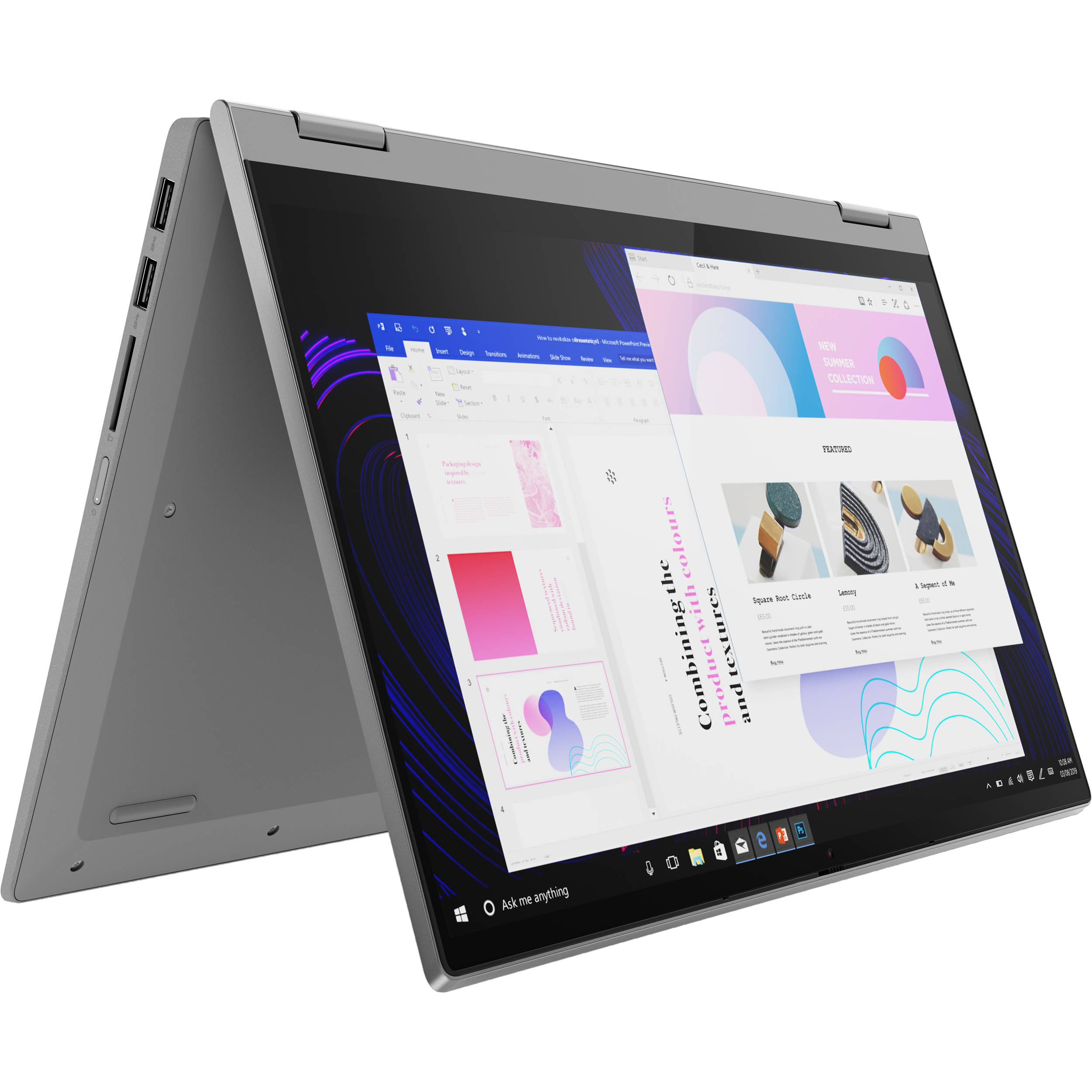 Price: $599.99
As we raise the stakes, we reach a mid-range Lenovo laptop: The Flex 5 14. This 2-in-1 laptop comes with a 360-degree hinge. This means you can use it as a tablet (thanks to its touchscreen display), stand it up to watch movies, or open it like a normal laptop.
This added function doesn't bulk up the design too much, as it's still classed as an "ultraportable" laptop. It has a 14″ display and only weighs 3.3 lbs (1.5kg). With a battery life of 9+ hours and Wi-Fi 6 (an improved form of Wi-Fi connection that allows faster data transfers), this model is functional and well-designed for working while traveling.
Like the IdeaPad 3, the Flex 5 14 makes your security a focus point. Not only does it offer a physical shutter for your webcam, but it also comes with a high-tech fingerprint scanner built into the device. However, this feature is missing from certain models.
Specs:
14″ FHD Touchscreen Display
Intel Core i3-1005G1 Processor (10th Generation)
Intel UHD Graphics Card
4GB RAM and 128GB Hard Drive Space
Weighs 3.3lbs/1.5kg
Pros:
360-Degree Screen Hinge
2-in-1 Functionality
Built-in Security Features
Cons:
The screen Could Be Brighter
Lenovo ThinkPad X13
Price: $875.40
One of the best Lenovo laptops ever HAS to be the ThinkPad X13. There are two distinct versions of this model available: Intel and AMD.
Both have their advantages, but we will focus on the Intel models for now (there are a few), mainly because its minimum specs include the Intel Core i5-10210U Processor (10th Generation). If you want to spend more, you can get the higher-grade version with the Intel Core i7-10610U processor.
The ThinkPad X13 has an impressive battery life lasting between 8 and 12 hours. And with rapid-charging technology, you can reach 80% charge in just 1 hour! Even when you put this laptop on standby, it will wake up and connect to the internet in literally 2 seconds.
The X13 takes security to the next level! Not only does it include some of the features of the previously mentioned laptop (such as the physical webcam shutter and built-in fingerprint scanner), but it also comes with an optional (and improved) PrivacyGuard screen. With the press of just one button, you can change the resolution of your screen so that it appears blacked out to anyone sitting on either side of you.