The time has come to buy a new laptop. The problem is that you don't know where to begin. There are thousands upon thousands of laptops to choose from, and the choice is a tad overwhelming, right?
Which brand do you trust? Do you focus on affordability or functionality? Should you sacrifice performance for a more compact, lightweight model?
Let me share a little secret: you don't have to give up anything. The best Lenovo laptops can offer you a range of functions, sizes, designs, and performance levels at a range of affordable prices. Having made $51 billion in revenue between 2019 and 2020, it's no surprise that you're leaning towards purchasing a Lenovo device.
So, what is the best Lenovo laptop (ever)?
Lenovo IdeaPad 1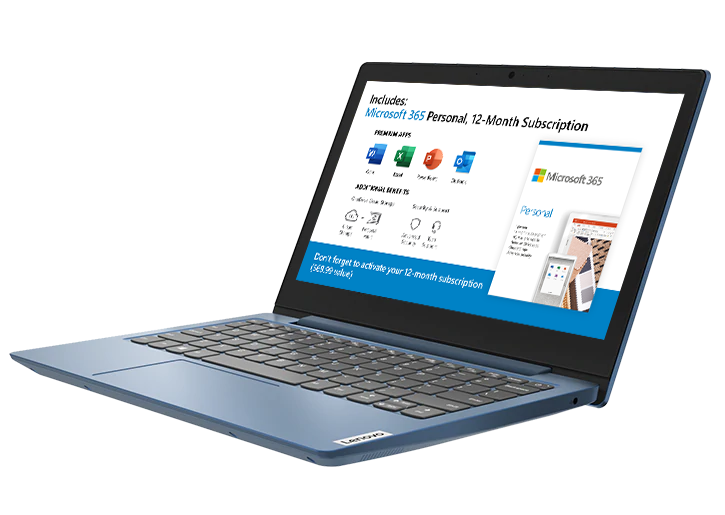 Price: $309.99
If affordability is your focus, you're probably asking yourself one question: "What is the best Lenovo laptop for the money I have?" Well, a great place to start is with IdeaPad 1.
This highly compact laptop is perfect for students or those working on the go. Weighing just 3.09lbs (1.4kg), you don't need to worry about carrying this device around with you.
A compact laptop doesn't mean you need to sacrifice performance, either. The IdeaPad 1 is built with an Intel Platinum processor, meaning you can easily run multiple programs or apps without your laptop lagging. And with its thin-bordered, anti-glare screen, you can make the most of the 14" HD display.
The IdeaPad 1 comes with a slick, ice-blue design. So, you can make the most of its 8-hour battery while still looking trendy. And if you enjoy listening to music, you'll like the built-in dual Dolby Audio speakers.
Specs:
14" HD Display
Intel Platinum Silver N5030 Process
4GB RAM and 64GB Hard Drive Space
Weighs 3.09lbs/1.4kg
Pros:
Lightweight and Compact
Long Battery Life
Functional and Dependable Performance
Cons:
Lenovo IdeaPad 3 – One of the Best Lenovo Laptops?
Price: $389.99
There is no denying that the IdeaPad 1 is perfect for those on a budget. But if you're willing to invest some extra cash, you can get the new and improved version. It's bigger, it's faster, and it's got more memory. What more could you ask for?
How about a 15.6" display that is both touchscreen and anti-glare?
This model is less than 0.5lbs (0.2kg) heavier than the IdeaPad 1, so the improved features and performance don't cost you the transportability of your device.
With an Intel Core i3-1005G1 Processor (10th Generation) and a UHD graphics card, you'll notice the improved performance and picture!
The IdeaPad 3 also comes with a rare but convenient security feature: a physical shutter covering your webcam. Now there's no reason to damage your laptop by covering the webcam with tape after your Zoom or Skype call.
Given that a 2003 study found that a cyber hack attempt occurs every 39 seconds (on average), this added security feature offers a little peace of mind.
You even have two designs to choose from Almond or Abyss Blue.
Specs:
6" HD Display
Intel Core i3-1005G1 Processor (10th Generation)
Intel UHD Graphics Card
4GB Ram and 128GB Hard Drive Space
720p HD Webcam
Pros:
Lightweight and Compact
Physical Webcam Shutter
Powerful Processor and Memory Capabilities
Cons:
Slightly Weaker Battery Life (7 hours)
Lenovo IdeaPad Flex 5 14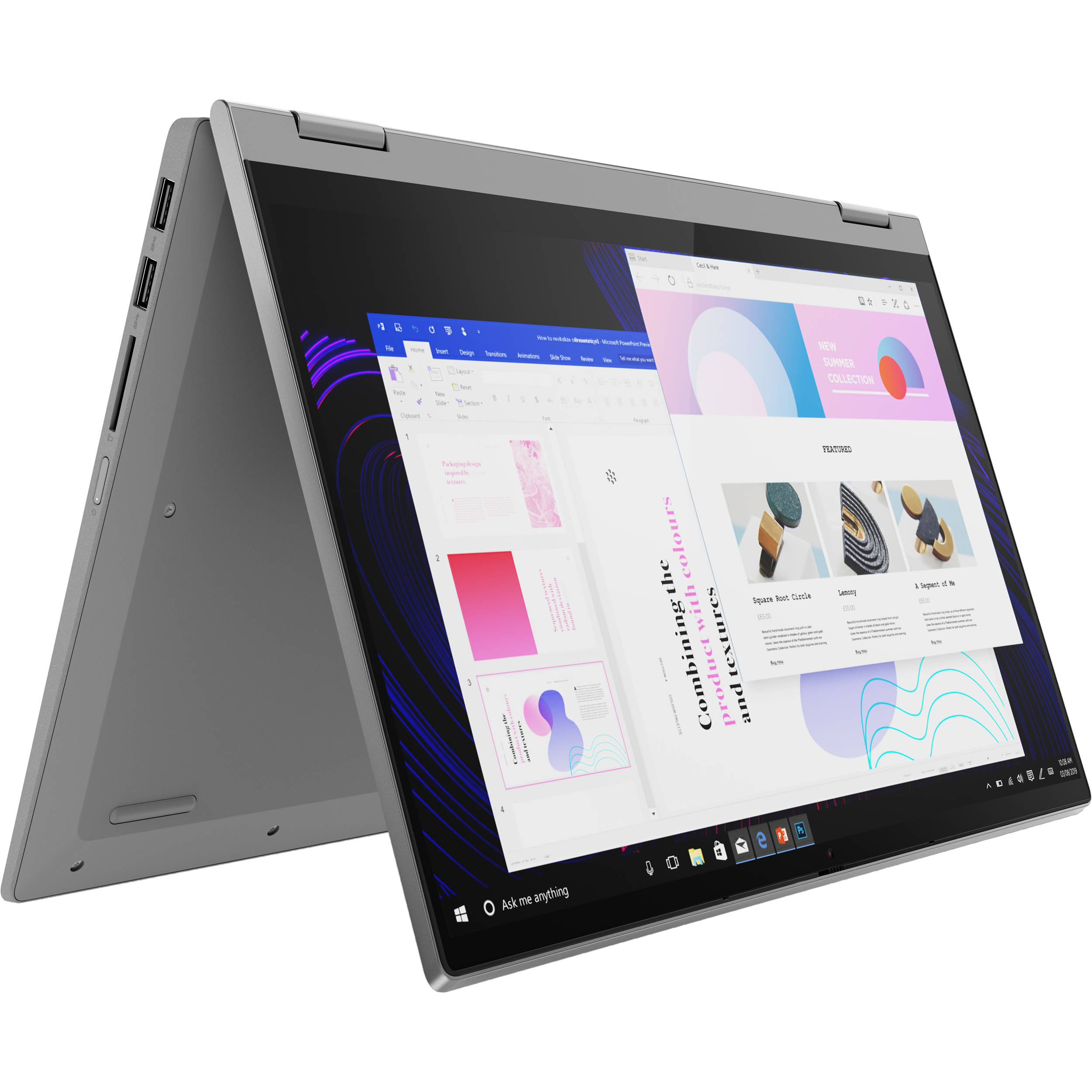 Price: $599.99
As we raise the stakes a little, we reach a mid-range Lenovo laptop: The Flex 5 14. This 2-in-1 laptop comes with a 360-degree hinge. This means you can use it as a tablet (thanks to its touchscreen display), stand it up to watch movies, or open it up like a normal laptop.
This added function doesn't bulk up the design too much, either, as it's still classed as an "ultraportable" laptop. It has a 14" display and only weighs 3.3lbs (1.5kg). With a battery life of 9+ hours, and Wi-Fi 6 (an improved form of Wi-Fi connection that allows faster data transfers), this model is functional and well-designed for working while traveling.
Much like the IdeaPad 3, the Flex 5 14 makes your security a focus point. Not only does it offer a physical shutter for your webcam, but it also comes with a high-tech fingerprint scanner built into the device. However, this feature is missing from certain models.
Specs:
14" FHD Touchscreen Display
Intel Core i3-1005G1 Processor (10th Generation)
Intel UHD Graphics Card
4GB RAM and 128GB Hard Drive Space
Weighs 3.3lbs/1.5kg
Pros:
360-Degree Screen Hinge
2-in-1 Functionality
Built-in Security Features
Cons:
Lenovo ThinkPad X13
Price: $875.40
One of the best Lenovo laptops ever HAS to be the ThinkPad X13. There are two distinct versions of this model available: Intel and AMD.
Both have their advantages, but we're going to focus on the Intel models for now (there are a few), mainly because its minimum specs include the Intel Core i5-10210U Processor (10th Generation). If you're willing to spend more, you can get the higher-grade version with the Intel Core i7-10610U processor.
The ThinkPad X13 has an impressive battery life which can last between 8 and 12 hours. And with rapid-charging technology, you can reach 80% charge in just 1 hour! Even when you put this laptop on standby, it will wake up and connect to the internet in literally 2 seconds.
The X13 takes security to the next level! Not only does it include some of the features of the previously mentioned laptop (such as the physical webcam shutter and built-in fingerprint scanner), but it also comes with an optional (and improved) PrivacyGuard screen. With the press of just one button, you can change the resolution of your screen so that it appears blacked out to anyone sitting on either side of you.
If that wasn't enough, it comes with a TPM 2.0 Encryption chip!
The prices may range from $875.40 to $1,939.00 to $3,099.00, but so do the capabilities of each model. Check out Lenovo.com to explore all the various models and laptops in more detail.
Specs:
3" FHD Display
Intel Core i5-10210U (10th Generation) – Intel Core i7-10610U (10th Generation)
Intel UHD Graphics Card
8-16GB RAM and 256GB-1TB Hard Drive Space
Weighs 2.84lbs/1.29kg
Pros:
Advanced Security Features
Impressive Processing Power
Fast-Charging and Long-Lasting Battery
Cons:
Lenovo Legion Y740
Price: $2,149.99
What are the best Lenovo laptops for gamers?
Those looking for a budget gaming laptop could go for the Lenovo Legion Y530, Y540, or Y545. With a user ranking of 85%, you don't need to feel like you're gambling with your money. But if you're willing to part with a little extra cash, you should look towards the Lenovo Legion Y740.
This model boasts a GeForce RTX graphics processing unit combined with an Intel Core i7 CPU, and your gaming experience will know no bounds. Not only that, but its advanced brightness settings and high-resolution screen mean that you can take your laptop outside without worrying about the sun's glare.
The Legion Y740 isn't limited to incredible graphics, though, as its audio output is highly customizable thanks to the Dolby Atmos Speaker System app installed on the laptop. You'll be able to adjust your settings to match the type of sound you need perfectly, whether it's gaming, movies, or music.
Specs:
6" Display with 1080p Resolution
Intel Core i7-9750H Processor (9th Generation)
NVIDIA GeForce GTX 1060
8-16GB RAM and 265-512GB Hard Drive Space
Weighs 5.3lb/2.4kg
Pros:
Incredible Graphics and Gaming Performance
Backlit Keyboard with Comfortable Key Placement
Sturdy Design
Con:
Lenovo ThinkPad P1 (Gen 3)
Price: $2749.00
We've touched on laptops that are affordable, easily transportable, powerful, laptops ideal for students, and even gaming laptops. But what are the best Lenovo laptops for designers, graphic artists, professionals, or anybody who regularly needs to run demanding software?
This is where the Lenovo ThinkPad P1 comes in. It's not just a laptop, and it's a mobile workstation.
If your job involves traveling through treacherous conditions, then finding a suitable laptop may be a struggle. The ThinkPad P1 is an incredibly sturdy and reliable device. It faces over 200 quality checks to ensure it can handle extreme conditions (from zero gravity to freezing temperatures) and meets 12 military-grade requirements for durability and reliability.
The ThinkPad P1 also comes with a ton of incredible features. This machine is designed for performance with an Intel Core i7-10750H processor and anywhere between 8 and 32GB RAM. The Gen 3 comes with an "Ultra Performance Mode" feature that allows it to max out the system by utilizing the cooling systems.
Given that the most basic version of the device comes with a 15.6" FHD display and an NVIDIA Quadro T1000 graphics card, your designs will burst out the screen! If you choose a higher spec model, you can treat yourself to the Dolby Vision HDR display.
Specs:
6" FHD Display (Basic Model)
Intel Core i7-10750H Processor (10th Generation)
NVIDIA Quadro T1000 Graphics Card
8-32GB RAM and 256GB-1TB Hard Drive Space
Weighs 3.75lbs/1.7kg
Pros:
Military-Grade Durability and Reliability
Impressive Processing Power (Including 'Ultra Performance Mode')
Incredible Display Graphics Capabilities
Cons:
Ready to Begin your Lenovo Journey?
Now that we've explored some of the best Lenovo laptops, you're ready to pick the one that's best for you.
If you're a gamer, check out the Lenovo Legion Y530 or Y740. Students might find that IdeaPad 1 or 3 fits their needs without breaking the bank. Busy professionals on the move might benefit from the IdeaPad Flex 5 14 or the ThinkPad X13. Unless, of course, you plan on heading out into the wilderness, in which case the durable ThinkPad P1 (Gen 3) is the ideal model for you.
Lenovo has a laptop for everyone, so don't hesitate to check out the available range!