Now it is easy to install grand sunrooms or solariums in your homes up to your convenience. Sunrooms are a fantastic addition to one's home, providing many benefits for the entire family. If you are on a home improvement project, then sunrooms and solarium are some of the best investments you can make. Sunrooms are glass living rooms that are laid on wood or concrete foundation. Sunrooms are the best way to enhance your lifestyle. They are made up of either single or double glass panes, protecting them from all kinds of dust, rain, and wind. Sunrooms provide extra space to your homes and have a host of enjoyments to one. They are also cost-effective, bringing one close to nature and fresh sunlight. If you have a porch in your home, it can very well be converted into a sunroom. Before setting up a sunroom, you need to determine which type of doors, windows, rooftops, or walls you want to choose. There are many kinds of sunrooms like three-season sunrooms, four-season sunrooms, year-round sunrooms, etc. Unlike four-season and year-round sunrooms, three-season sunrooms are not insulated. They also do not have heat or any air conditioning.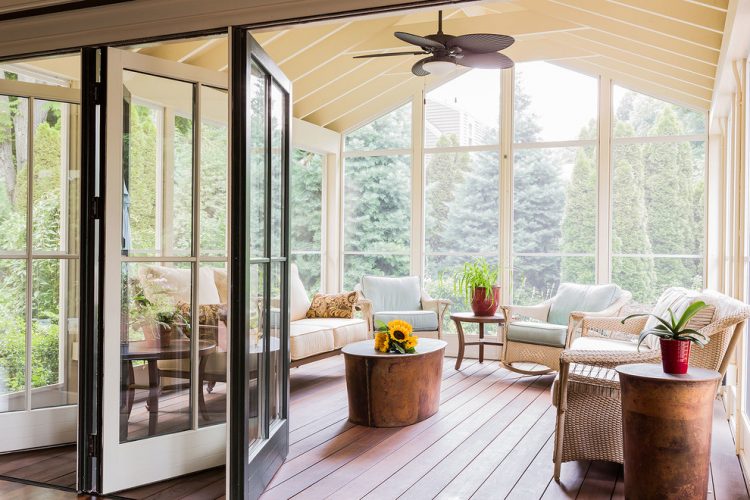 Now you can easily bask in the natural sunlight, free from all the worries. This is an additional benefit that sunrooms give along with the comfort at home. One becomes closer to nature and gets natural sunlight, which is essential for our body as it is the source of Vitamin D.
You can easily cut off electricity bills with the sunrooms in your home. Since sunrooms are open and allow natural sunlight to enter, the power consumption would be less in your room. It is even reduced during winters since you don't need fans or coolers that time. Moreover, if they are designed crafty, one can reduce energy for cooling and heating as well.
More space for recreational activities:
Sunrooms provide an added space where one can perform extracurricular activities, playing indoor games, playing guitar, piano, painting, dancing, jamming, etc. This room can be made an exclusive family room, gym room, or children's play area. If one is looking to add more space to a home, then sunrooms are the best respite! They provide an amazing breakfast area, especially during sunrise time.
You can easily convert your sunrooms to a green room by planting small pots and organic plants that don't require much air. You can convert your sunroom into a garden as they have optimum temperature and abundant sunlight required for their growth.
Sunrooms are extremely cost-effective as they don't require much expenditure to build and maintain. Unlike building traditional homes, they add living space to your household at no extra cost. They don't take much time and labor to build up too. They have a high ROI when it comes to selling them as well.
Sunrooms are a good investment in one's lifestyles, giving quality time for friendly banter with all the family members. They provide a relaxing time where one can lounge freely. They improvise one's lifestyle, providing the opportunity to have celebrations at night, an escape from the stress of everyday life.
Thus, sunrooms have a host of benefits and important addition to one's lifestyle. They can be easily customized as per one's requirements and needs. So, don't wait, get yourself a sunroom constructed!